You can Refer Your Friends and earn credits to your stateroom on the Love Like You Mean It Cruise - Plus your referrals will get a discount when they reserve their stateroom.
Details:
After you book your reservation, look at the bottom of your confirmation email for a referral link. Send that referral link to your friends who have never cruised with us before! Any NEW guest who reserves their stateroom using the referral link will receive a $200 per person discount on their stateroom. (Or the best price if another promotion is in place).

YOU will receive a $300 credit on YOUR stateroom for every new reservation that lists you as their Referral Partner. (Credit has no cash value. The total credit amount will not exceed the Referral Partner's stateroom total cost.) The stateroom credits will be posted in June, September, and December - and they will be removed if referral cabins are canceled.

Only NEW guest reservations for the LLYMI Cruise (no alumni) can be credited to you as a referral.

The Referral Program will only be available through April 30, 2023.

You must have a cruise reservation to become a Referral Partner to receive the credit, AND the guest you are referring MUST give your name as the Referral Partner on their FIRST CALL with our reservation agent.
How to get started:
Reserve your stateroom for the 2024 LLYMI Cruise.

Invite your friends and family (who have never attended a previous LLYMI event) to join you on the LLYMI Cruise - telling them to mention to our reservation team on their first call that you have referred them. 
Call for Info: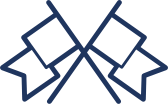 What if one of my referral couples cancels?

If they were a new reservation and you received a $300 credit on your stateroom account, you will lose that credit and the $300 will be charged back to your account.